Exquisite Midi Sub
Củ loa bass của Exquisite Midi Sub nhỏ hơn so với củ loa bass của mẫu loa sub tiền nhiệm. Nó có đường kính 381mm (15 inch). Thiết kế này rất phù hợp với kích thước tổng thể của loa. Nhưng điểm khác biệt lớn nhất của hai mẫu loa này nằm ở công nghệ chế tạo của loa bass. Thay vì được làm từ Aluminium như củ loa của Exquisite Sub thì củ loa bass này sử dụng công nghệ High Modulus Sandwich Kharma Composite. Công nghệ đặc biệt này được phát triển bởi Kharma nhằm cung cấp âm bass chi tiết.
Exquisite Midi Sub
New materials and new techniques gave us the wings to further approach reality as the absolute reference in the Kharma Exquisite Collection. The far-reaching attention to detail makes this speaker range a class of its own. The new Exquisite Midi Sub extends this unique speaker range and will therefore lead to new possible system combinations within the Exquisite Collection.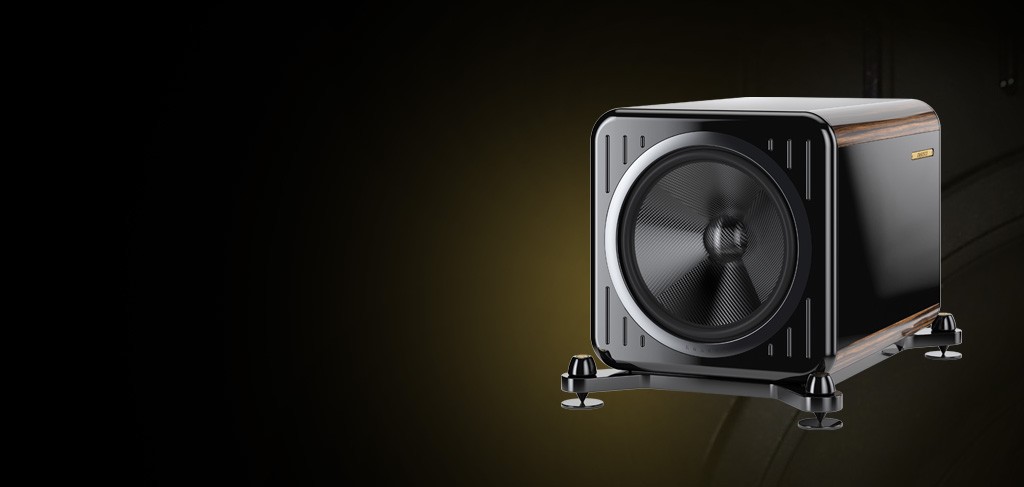 The new Exquisite Midi Sub is based on its predecessor the Exquisite Sub, however this new Midi Sub is equipped with the new 15-inch High Modulus Sandwich Kharma Composite driver. This Composite driver is fully developed by Kharma and consists of an ultra high-tech rocket science/formula 1 based fibre. The woofer is placed in a cabinet made of an extremely dense material and finished with wooden Macassar parts.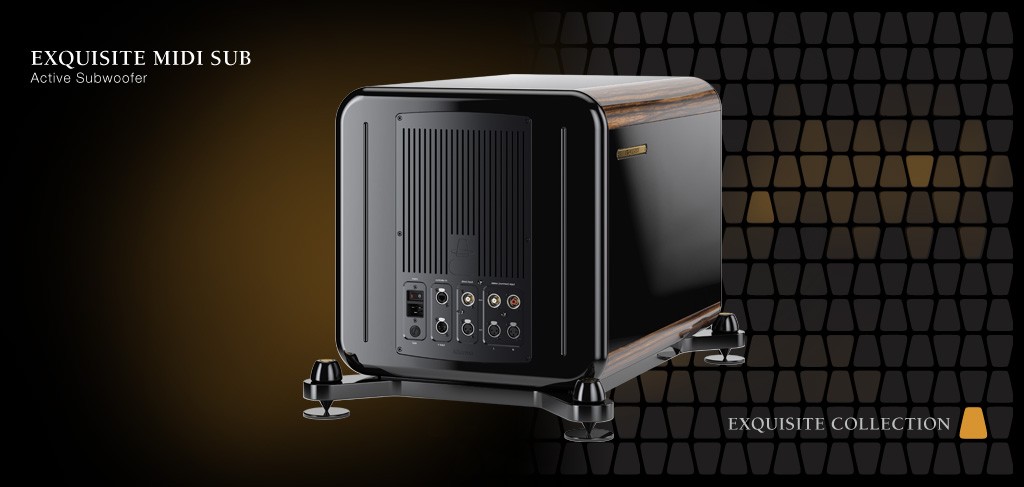 Furthermore, the Midi Sub is complemented with a trimming ring for the woofer and side trimming to match with the entire Exquisite collection. The carbon-look of this woofer in combination with the beautiful style elements lead to an impressive finish of the new Exquisite Midi Sub.
Exquisite Midi Sub: Specifications
Drivers
The 15-inch woofer High Modulus Sandwich Kharma Composite Drivers are especially developed to be able to deliver a very detailed bass. These woofers are equipped with a new cone technology developed by Kharma. It consists of ultra high-tech rocket science/formula 1 based fibres.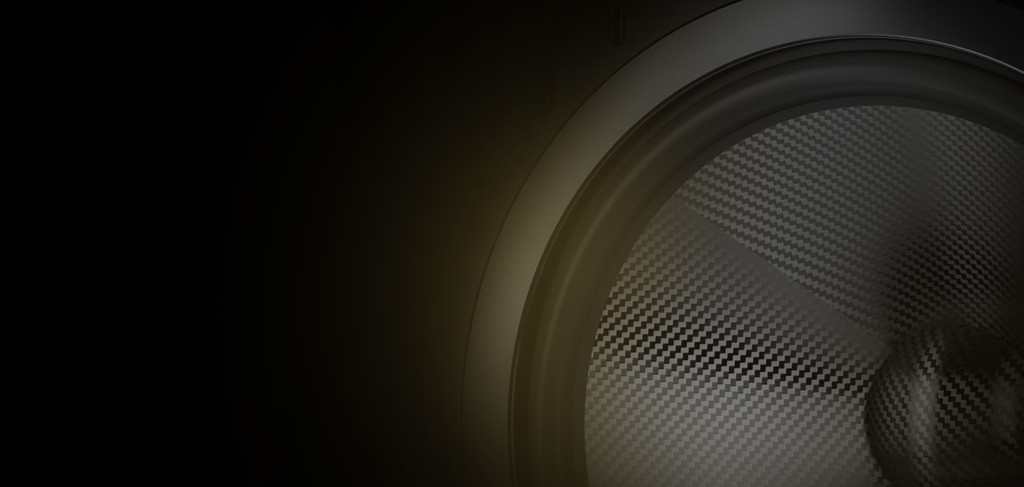 Low frequencies:15-inch High Modulus Sandwich 10 mm thickness Kharma Composite Driver
Technical specs
The Exquisite Midi Sub is a new product. Therefore Kharma is still fine tuning the definite version of this subwoofer. Therefore the technical specifications are yet unknown. Feel free to contact Kharma International for more details about this new Exquisite Midi Sub.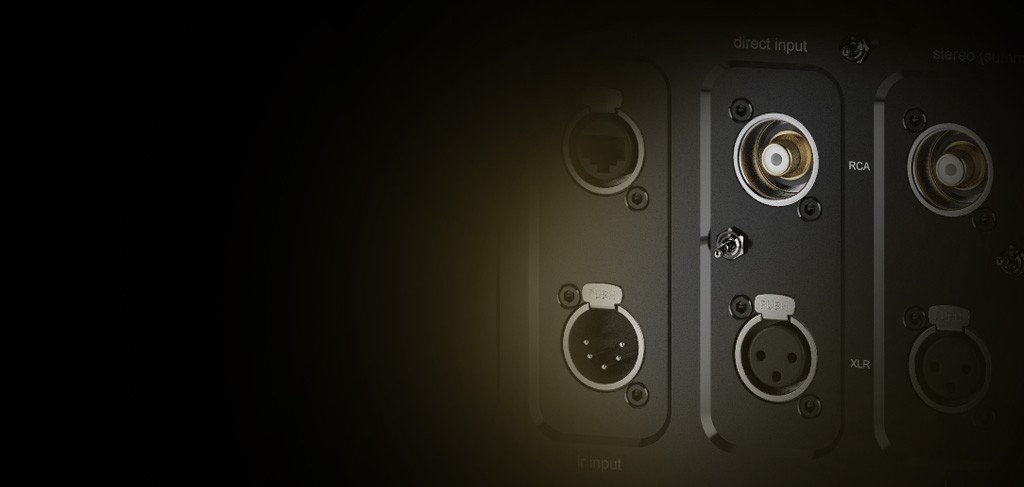 Type:EXQ-MDSB-1.1-A
Dimensions
The Exquisite Midi Sub is more modest of size than its predecessor the Exquisite Sub. Instead of an 18 inch woofer, the 15 inch High Modulus Sandwich Kharma Composite Driver determines the size of this new Exquisite subwoofer.
Including Stand:
Width:559 mm / 22.01 inch
Height:561 mm / 22.09 inch
Depth:849 mm / 33.43 inch
Excluding stand:
Width:500 mm / 19.69 inch
Height:500 mm / 19.69 inch
Depth:700 mm / 27.56 inch
Advice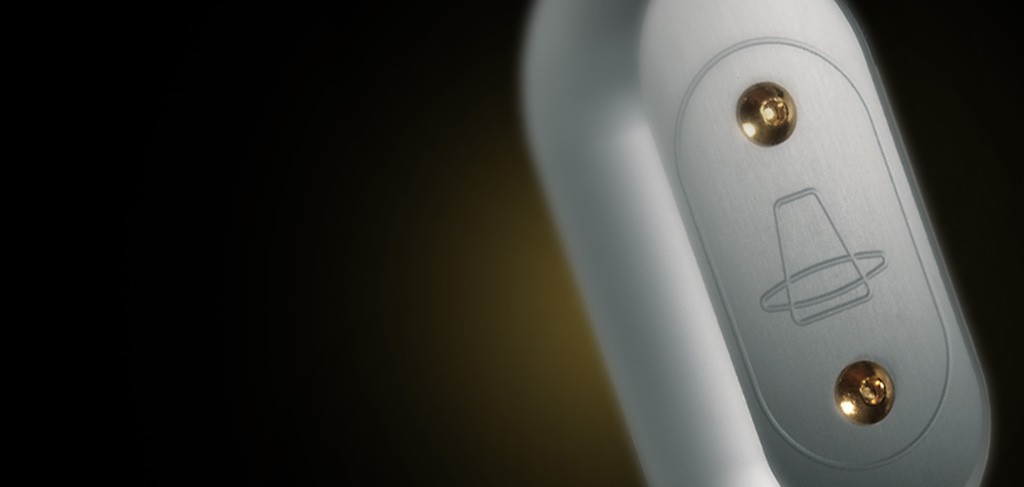 Advised external cable
The uncompromised design of the Exquisite Midi Sub resulted in the high quality of this subwoofer. For this reason there can only put justice to the quality of this Midi Sub, when the used external cable is also uncompromised to the highest level. Therefore the Enigma cable series is advised to complement the ultra high-end sound of the Exquisite Sub. However the true connoisseurs of musical art will even go one step further by complementing their Exquisite Midi Sub with the Enigma Signature cable series.
Exquisite Midi Sub: Options
Stock Program
A Kharma product must not only have an unbelievable refined sound, which meets the needs of a true music lover, but also must have an astonishing finish to compete with the musicality of the system. As known by Kharma, every customer can have a taste of its own. Therefore Kharma developed three programs to be able to fulfil all levels of customization: the Primary Stock Program, the Kharma Optionary Program and the Kharma Privileges Program.
Primary Stock Program
This program has been targeted as to create the shortest possible delivery time for the official Kharma products. This program is therefore based on the most popular Kharma finishes, which have proven their looks in the past by many successful sales. In this way we can deliver both the high refined sound as the astonishing finish that can be expected from Kharma.
Optionary Program
The Kharma Optionary Program gives the freedom to tune the system both visual, to personalize the look of your speaker, as well as technical, to further refine the astonishing sound of your speaker.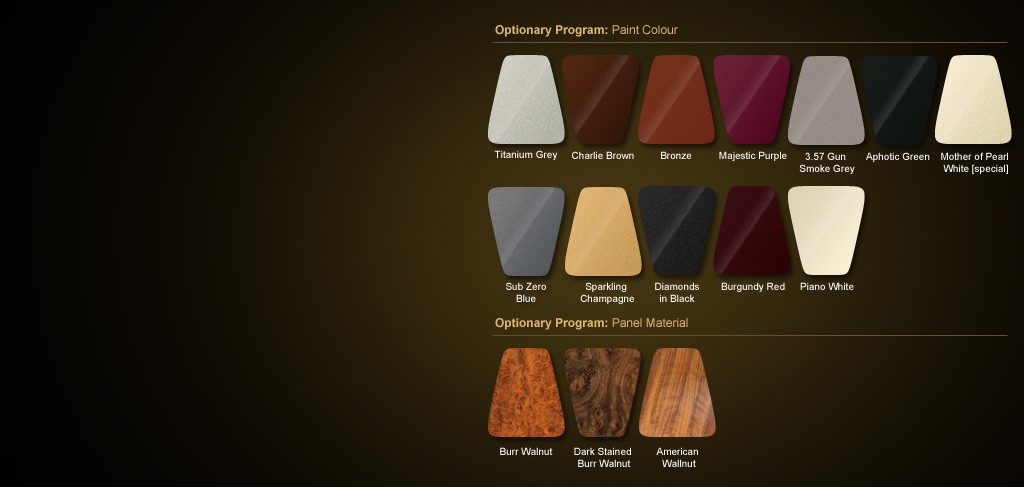 The visual tuning in the Optionary Program will give the customer the opportunity to choose between special selected Kharma colours and panel materials. These finishes have a higher level of customization and therefore the delivery time will be slightly longer than in the Stock Program. There is no extra charge for the Optionary paint colours, except for the colour indicated as special. The technical updates and panel finishes in this program will bring extra costs and can vary per option.
Technical updates:
Extreme Signature treatment
Diamond Stand
Feel free to contact your dealer for more details
Privileges Program
The Privileges program gives access to the most exclusive treatment Kharma has to offer, which only can be accessed by the happy few who purchase a loudspeaker from the Exquisite Collection.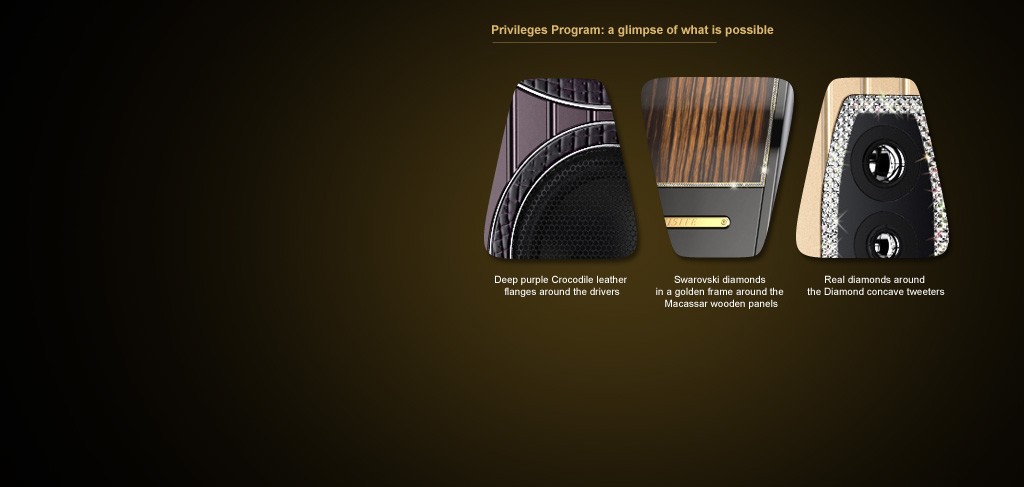 The Privileges program is both an extension of service Kharma has to offer and an opportunity to customize your product without any limitations. Any desired finish of the product is possible: any cabinet paint colour, panel finishes can be of leather, carbon or lasercutted wooden inlays. The flanges, spike cones can be matched with these or any other desire can be fulfilled. Moreover technical customization is also possible, comprising the enhancement of the sound quality.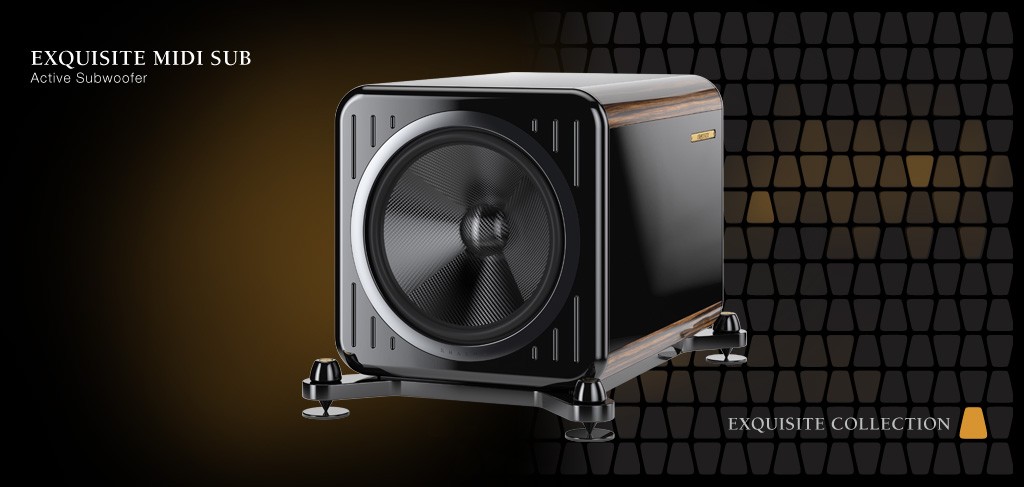 Additional benefits:
Lifetime Guarantee first owner
All products will be individually tuned
2 year Concierge Service
Lifetime Kharma Platinum Membership
Read more about the Privileges program in the whitepaper of this product, which can be found in the infotainment section.