The Challenger
The Challenger turntable weighs in at 23kg, to offer you our statement entry level high mass turntable. With this Challenger design, we bring together one of the most sophisticated external drive and power supply drive systems, with a massive high mass 50mm thick platter, supported by a solid 40mm thick chassis.
The Challenger is incredibly simple to set up, very versatile and sonically its performance is outstanding, making many other brand turntables costing up to three times the price sound poor in comparison. The Challenger design offers a remarkable and consistent performance at a highly competitive price, and has real visual appeal.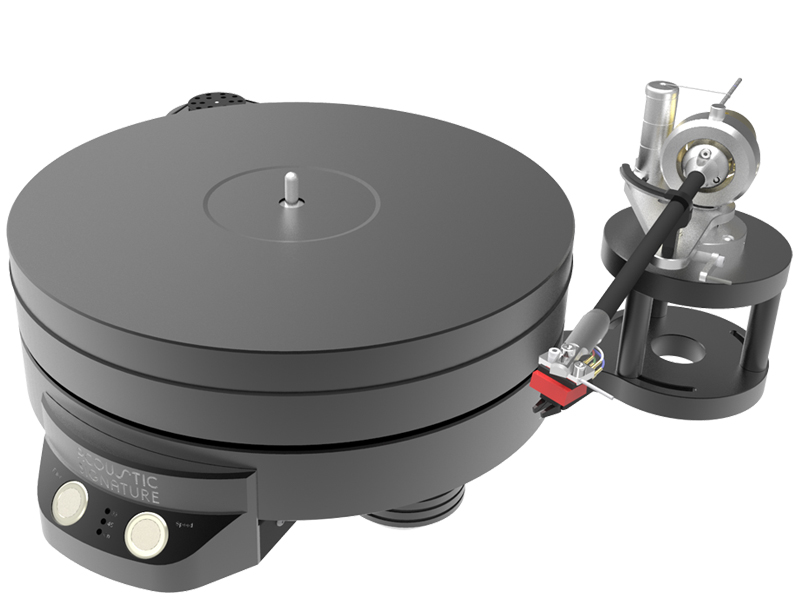 The Design
More ways to amaze. The new Challenger Mk3 is a consequent improvement of the former design. It's all combined with the award-winning performance, elegance, convenience and comfort that have made the mass turntable Series so successful.
Get ready to experience of the Challenger Mk3 Series - now perfectly suited to your own unique style. Perfect surface quality combined with the latest technology and flexibility. Up to 3 motors and 3 tone arms at the same time are possible.
The drive System
At the new Challenger Mk3 we combine a massive Aluminum plinth of 40mm plate with a 50mm massive Aluminum platter. This is a perfect fit for the Tidorfolon bearing holding the platter and the exchangeable arm boards.
Arms are placed around the plinth and they are easy adjustable.
The Platter
The Challenger Mk3 comes with a precisely manufactured Aluminum platter. He is produced out of a solid piece of soft Aluminum to improve his resonance behavior. The platter is additionally coated on the back side with a high damping material to get great results.
The thickness of 50mm gives him a weight of 10 kilogram. This high weight in combination with the smooth running Tidorfolon bearing is one unique reason of the great music experience the Challenger Mk3 provides.
The Motor
We at Acoustic Signature believe that a motor system for a turntable should have enough energy to speed up the platter but not influence him during rotation. We reach that aim by using a European made Synchronous motor with our own State of the Art motor control.
The Bearing
The platter bearing is the heart of every turntable and Acoustic Signature have invented a bearing with the ideal performance characteristics of exact fit, extremely low noise, very low friction and long term stability. The platter bearing axle is manufactured from special hardened and precisely grinded steel.
The bearing housing uses perfectly matched sinter bronze inserts which are self-lubricating. Our bearing design is developed to ensure a smooth run and tight fit of the axle.
We achieve this by using Sinter bushes and our Tidorfolon bearing ground. Here we have ultra-tight tolerances and our Tidorfolon bearing is lifetime maintenance free. We trust in this Bearing so it´s covered with a 10 year product warranty.
Technical data
| | |
| --- | --- |
| DRIVE UNIT | 1 Synchronius motor, electronically regulated fully mains decoupled adjustable, BetaDIG Motor electronic, external power supply |
| BEARING | high precision TIDORFOLON Bearing rollerbushed and paired with axle. |
| CHASSIS | vibration damped Chassis, 3 height adjustable feets, soft alloy for low resonance. |
| PLATTER | high precison platter made of aluminium, 5cm height. 9kg weight. |
| SPEED RANGE | 33 1/3 RPM, 45 UPM with motor electronic. |
| POWER SUPPLY | 230 Volt or 115V |
| DIMENSION | 440b x 180h x 350d mm, 21-25Kg weight-depending on extras. |
| COLOR | |
| | |
| --- | --- |
| DRIVE UNIT | 1 Synchronius motor, electronically regulated fully mains decoupled adjustable, BetaDIG Motor electronic, external power supply |
| BEARING | high precision TIDORFOLON Bearing rollerbushed and paired with axle. |
| CHASSIS | vibration damped Chassis, 3 height adjustable feets, soft alloy for low resonance. |
| PLATTER | high precison platter made of aluminium, 5cm height. 9kg weight. |
| SPEED RANGE | 33 1/3 RPM, 45 UPM with motor electronic. |
| POWER SUPPLY | 230 Volt or 115V |
| DIMENSION | 440b x 180h x 350d mm, 21-25Kg weight-depending on extras. |
| COLOR | |