mbl C21 Stereo
MBL là một thương hiệu nổi tiếng đến từ nước Đức, trong đó có dòng Power Amplifier với rất nhiều các sản phẩm nổi tiếng, giờ đây đã có mặt tại Audio Huylananh và được phân phối khắp thị trường Audio cả nước.
Stereo Power Amplifier mbl C21
Blurring the line between technology and art is the MBL Corona C21 Power Amplifier.
The mission was to achieve perfect symbiosis _ an ideal fusion of high end sound with an innovative design concept. MBLs teams of developers and designers worked hand in hand in engineering the concept and have broken fresh ground. The outcome is now a new range of superb high quality high end audio - the MBL Corona Line.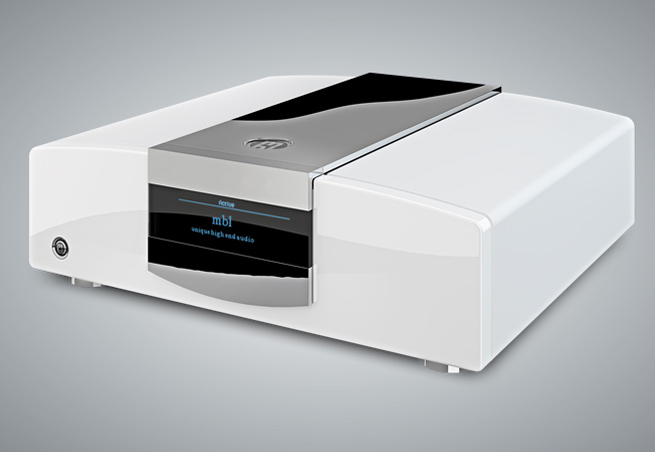 The way we listen to music at home can attain more vivid quality if each component in the system fulfils its specific task with top precision whilst working perfectly in tune with the other components. When this is achieved, we experience the breathtaking illusion of the artist standing before us in the flesh, fully captivating our attention. This is why MBL's C11 Preamplifier and C21 Power Amplifiers are synergistic. The C21 utilises MBL's LASA technology in a dedicated stereo chassis. It is the ideal counterpart to the Corona C11 Preamplifier, taking your sound presentation to the next level. Together they flawlessly control the loudspeakers without strain.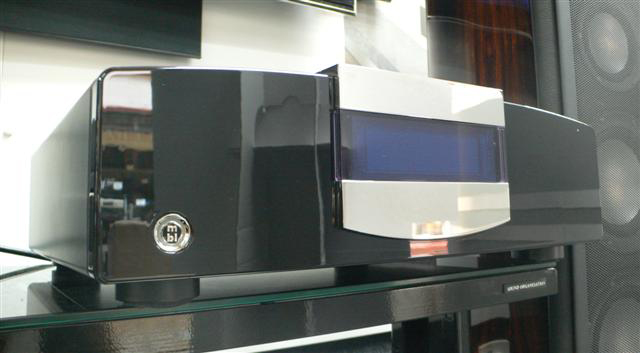 The Corona Line hasnt just broken the mould in design terms alone; technically speaking too this new product line sets new standards. The outer solid aluminium casing contains a second casing of reinforced steel which screens off the electronics in magnetically shielded slots with full electrical isolation of the power supplies units and transformers. The CD player features a state of the art high quality Slot drive and digital RCA and Toslink inputs as well as a native USB dock for CD audio data. A novel intelligent MBL SmartLink network enables the devices to talk to one another. This means that all associated input signals are controlled by the Pre-Amplifier or Integrated Amplifier and a simple touch of the button on a device or the remote control is all that you need to put the whole Corona system on standby. The power consumption is then under 1 VA (Green Standby). The MBL Corona Line is a fully rounded statement of our proven expertise in audio engineering and design _ a consummate fusion of perfect acoustics and design. A truly alluring entry to the world of high end audio.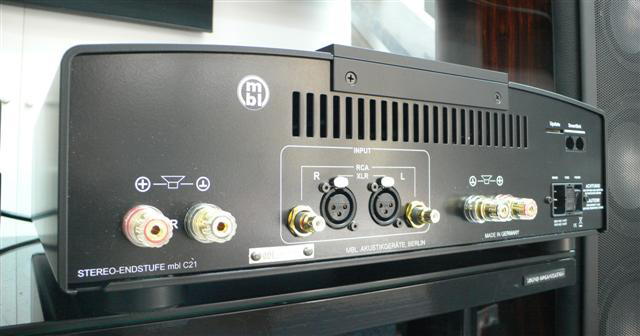 SPECIFICATIONS
General

Weight

22 kg / 48.5 lbs

Dimensions (without cables)

W 45,0 cm / D 44,5 cm / H 14,5 cm

W 17.7 in / D 17.5 in / H 5.7 in

Dimensions with packaging

W 59,0 cm / D 54,0 cm / H 35,5 cm

W 23.2 in / D 21.3 in / H 21.9 in

Line Voltage

230 Vac / 50 Hz or 115 Vac / 50/60 Hz

Power consumption

in stand by

< 1 VA

in idle

< 70 VA

Maximum

< 1000 VA (w. 2 x 300 W @ 4 Ohm)

Connections

Inputs

1 x RCA In, unbalanced

1 x XLR In, balanced

Outputs

1 pair Loudspeaker Binding Posts

Other

2 x MBL SmartLink

Specifications

Rated Power

Stereo 4 Ohm: 2 x 300 W

Stereo 8 Ohm: 2 x 180 W

Stereo 2 Ohm: 2 x 400 W

Peak Output Voltage

62 Vp

Peak Output Current

20 Ap

Input Impedance (RCA / XLR)

9 kOhm/ 18 kOhm

Input Sensitivity (RCA / XLR)

100 mV / 200 mV for 1 W @ 4 Ohm

Rated Input Voltage (RCA / XLR)

1.7 V / 3.4 V for 300 W @ 4 Ohm

Voltage gain (RCA / XLR)

20 (26 dB) / 10 (20 dB)

Absolute Polarity

In-Phase (RCA / XLR Pin 2)

Signal / Noise Ratio @ Rated Output

124 dB (A) @ 300 W / 4 Ohm

Signal / Noise Ratio @ 1 Watt

100 dB (A) @ 1 W / 4 Ohm

Equivalent Input Noise - RCA

126 dB (A) @ 2 V Input

Equivalent Input Noise - XLR

126 dB (A) @ 4 V Input

Frequency Response

< 10 Hz – 45 kHz

Distortion THD+N

Typ. 0.01 % @ 3 W from 20 Hz … 20 kHz

Damping Factor

> 100 (40 dB) @ 1 kHz / 4 Ohm

Channel Separation

> 100 dB @ 1 kHz